Airway Surgical OTC Angora Elbow/Arm Warmer
SKU:

AWS-79040

Brand
Description
Airway Surgical OTC Angora Elbow/Arm Warmer
Looking for a lightweight and natural way to keep your arms warm? Airway Surgical has your solution with the Airway Surgical OTC angora elbow arm warmer. Our arm warmers are made of natural angora wool that will keep your arms comfortable all day long. With a lightweight design, our arm warmers are perfect for any activity. If you're looking for a little extra warmth this winter, consider airway surgical OTC angora elbow arm warmers! Made of a breathable and moisture-absorbent material to wear, arm warmers are perfect for keeping your arms and hands warm on those cold days. With an elastic band at the top for a snug fit, these arm warmers are sure to keep you cozy all day long.
Arm Warmer Features:
Lightweight, natural insulation
Seven times warmer than normal wool
Breathable, moisture absorbent, comfortable to wear
The hollow structure of its fibers makes it ideal for thermal clothing.
Arthritis Relief with lightweight, natural insulation.
Helps maintain a steady temperature at the skin surface.
Latex-free
Absorb Moisture and Maintain Temperature
OTC Angora Arm Warmer is made of natural Angora Wool which can absorb an amount of moisture and maintain a steady temperature at the skin surface for all-day wearing comfort. It is a good choice for those who want to keep their hands and arms warm in cold weather. Airway Surgical's Angora Wool warmers are seven times warmer than conventional wool. The natural insulation of angora helps keep your hands and arms warm while the wool helps to wick off water and moisture.
Breathable and Comfortable Material
The Airway Surgical OTC Angora Elbow Arm Warmer is made from Angora Wool Fibers. Angora wool is the lightest of all the natural fibers with a hollow structure of the fibers making it ideal for thermal clothing. The Angora fiber helps to trap heat close to the skin, which can help to reduce inflammation and pain. Therefore, the elbow warmer made from angora wool is the softest, most comfortable, and most effective sleeve to provide you warmness and relief for your pain related to cold weather conditions. Additionally, the warmer has designed to fit snugly around the elbow or arm to provide targeted support and compression.
Halo Healthcare offers a wide range of Supports and Braces in Canada and the US, so you can choose the one that suits your needs. We also carry a wide range of other products as well.
Sleeve Warmers Specifications
| | MEASURE AROUND THE BEND OF THE ELBOW |
| --- | --- |
| SMALL | 7.75" - 9.75" (19.5 - 25 cm) |
| MEDIUM | 9.75" - 11" (25 - 28 cm) |
| LARGE | 11" - 13.5" (28 - 34 cm |
| X-LARGE | 13.5" - 15" (34 - 38 cm) |
A. Measure around the bend of the elbow.
1. Slip over each arm so that the warmer rests comfortably over the elbows.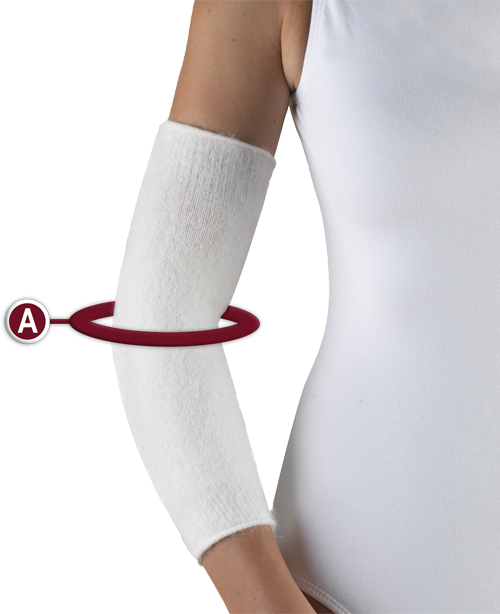 Sleeve Warmers Specifications
Color: Natural White
Airway Surgical OTC
Available sizes
Shipping & Returns
We can ship to virtually any address in Canada or the United States.
Delivery times and fees can vary by region.
For information on Shipping, visit our Shipping page.
We have a 30-day money-back guarantee for most products. To find out what products qualify, visit our Returns page for more information.
Or, if you have other questions, please do not hesitate to Contact Us. We are happy to help!
Need Help?
Do you need help with an order? Or just have general questions? We're here to help!
Please feel free to call us toll-free at 1-833-897-6905, email us, or chat online with one of our Customer Service Agents. LiveChat and Customer Service Specialists are available Monday - Friday between the hours of 9am and 4pm PST (holidays excluded).