Airway Surgical OTC Angora Shoulder Warmer White
SKU:

AWS-79030

Brand

SHIPPING:

Ships for FREE to most locations
Description
Airway Surgical OTC Angora Shoulder Warmer White
The OTC 79030 angora lower back warmer allows the skin to breath, it absorbs moisture, and maintains steady temperature at the skin surface for all-day wearing comfort. Angora wool is the lightest of all natural fibers - the hollow structure of the fibers makes it ideal for thermal clothing.
Angora Shoulder Warmer Specs
Lightweight, natural insulation

Seven times warmer than wool

Helps maintain a steady temperature at the skin surface

Breathable, moisture absorbent, comfortable to wear

Latex free
Angora wool is the lightest of all natural fibers. The hollow structure of its fibers make it ideal for thermal clothing. It is comfortable to wear next to the skin, allowing the skin to breathe but absorbing moisture and maintaining a steady temperature at the skin's surface. Angora warmers have beneficial therapeutic effects for arthritis, carpal tunnel syndrome, back problems or any other pain affecting the joints.
How to measure and apply Shoulder Warmer
| | MEASURE AROUND THE CHEST |
| --- | --- |
| SMALL | 30" - 34" (76 - 86 cm) |
| MEDIUM | 34" - 38" (86 - 96.5 cm) |
| LARGE | 38" - 42" (96.5 - 107 cm) |
| X-LARGE | 42" - 46" (107 - 117 cm) |
A. Measure around the chest.
Application Instructions
1. Slip over each arm so that the warmer rests comfortably on the shoulders.
Medical Applications
Maintaining heat around the joint
Maintaining heat around the soft tissues of the joint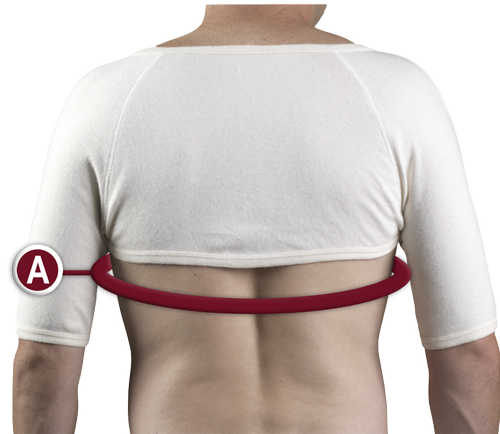 What is Arthritis?
Arthritis is an inflammation of a joint and can occur anywhere in the body. Symptoms are primarily joint pain and stiffness, which often worsen with age.Arthritis can be caused by heredity, abnormal metabolism, joint injury or infection, or by an immune system dysfunction. The two most common types of arthritis are osteoarthritis and rheumatoid arthritis.

With osteoarthritis (OA) the flexible tissue (cartilage) that cushions the ends of bones wears down. Along with joint injury, heredity and muscle weakness, advancing age is a factor for developing OA. People over 45 years or older are the majority affected by the disease. By the age of 60 most people have OA somewhere in their joints, usually in the knee.

With rheumatoid arthritis, the body's immune system attacks the joint linings, causing painful swelling. Over time this can cause bone erosion and joint deformity. Physiotherapy and medication can help slow the disease's progression, and joint warmers can offer relief from painful symptoms.
Shipping & Returns
We can ship to virtually any address in Canada or the United States.
Delivery times and fees can vary by region.
For information on Shipping, visit our Shipping page.
We have a 30-day money-back guarantee for most products. To find out what products qualify, visit our Returns page for more information.
Or, if you have other questions, please do not hesitate to Contact Us. We are happy to help!
Need Help?
Do you need help with an order? Or just have general questions? We're here to help!
Please feel free to call us toll-free at 1-833-897-6905, email us, or chat online with one of our Customer Service Agents. LiveChat and Customer Service Specialists are available Monday - Friday between the hours of 9am and 4pm PST (holidays excluded).