Airway Surgical OTC Comfort Posture Brace With Rigid Stays Black
Brand

SHIPPING:

Ships for FREE to most locations*
Description
Airway Surgical OTC Comfort Posture Brace With Rigid Stays Black
The 2456 Comfort Posture Brace with Rigid Stays helps prevent the development of abnormal spinal curvatures from poor posture. It is the most effective way to prevent slouching and the long-term pain associated with it. It pulls the shoulders back and straightens the spine. With correct posture, spinal pressure on disks is relieved helping to reduce pain. For petite individuals it might serve as a substitute for a bulky thoraco-lumbar brace.
• Tapered and layered front panel wrap comfortably around the abdomen
• Non-abrasive fastening and adjustment provides a comfortable custom fit
• Shoulder straps criss-cross in back, fasten in front
• LATEX FREE
Back Brace for Posture Specifications
Criss-cross shoulder straps
Shoulder straps criss-cross in back, fasten in front. Non-abrasive fastening and adjustment provides a comfortable custom fit.
Tapered and layered front panel wrap comfortably around the abdomen.
How to measure for and apply the Shoulder Posture Brace
| | MEASURE WAIST CIRCUMFERENCE |
| --- | --- |
| X-SMALL | 24" - 28" (60.9 - 71.1 cm) |
| SMALL | 28" - 32" (71.1 - 81.3 cm) |
| MEDIUM | 32" - 36" (81.3 - 91.4 cm) |
| LARGE | 36" - 40" (91.4 - 101.6 cm) |
| X-LARGE | 40" - 44" (101.6 - 111.8 cm) |
| 2X-LARGE | 44" - 48" (111.8 - 121.9 cm) |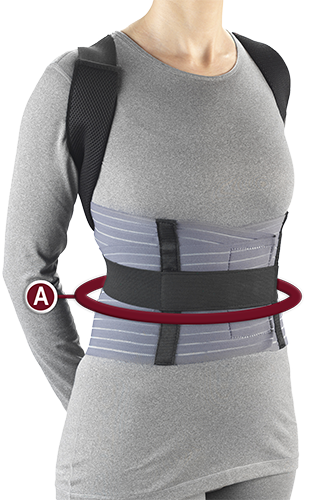 Drape straps over shoulders and let remain dangling.
Wrap binder around abdomen, then fasten and adjust for comfort.
Adjust padding along shoulder straps to position them comfortably under the arms.
Criss-cross the shoulder straps in back and then fasten in front.
Common Conditions of the Shoulder
Cycle through the slides below to familiarize yourself with several common conditions associated with the shoulder. The conditions described below may not be treated by the specific product listed above. Please view the above Medical Applications Chart to determine what conditions this page's associated product treats.
Rotator cuff injury – sprain or strain – is a common source of pain and functional disability. Symptoms can vary from occasional mild shoulder pain with full motion to constant and severe pain with complete loss of function. The rotator cuff can also be subject to tears. The tears themselves are mostly anterior, because this is the weakest point of their tendonous attachments. Treatment varies depending on the degree of the tear. It can range from medication and rest to surgical repair and immobilization by means of a brace or sling.
Bursitis the most common cause of pain the shoulder. It is an inflammation that affects the small fluid-filled sacs – bursa – that cushion the bones and soft tissues around the shoulder joint. Bursitis often occurs near joints that perform frequent repetitive motion. Symptoms of shoulder bursitis include pain that accompanies certain movements, pain that interferes with sleep, and shooting pains that extend down the outer edge of the arm. Treatment for shoulder bursitis typically involves anti-inflammatory drugs, application of ice treatment, and resting and immobilization of joint with use of an arm sling or immobilizer.
Post-Operative Discomfort
While an arthroscopic surgical repair to the shoulder can usually be accomplished with minimal invasion, there will be an extensive recovery period that can last for many months. The first phase can potentially last up to six weeks following surgery. Frequent application of ice will help reduce swelling. The use of an arm sling will also help with the healing process. Physical therapy might also be indicated. The second phase of recovery will last from six to twelve weeks where a limited range of arm movements will be allowed. The final phase will last from 3 to 6 months during which light but effective exercises are performed to strengthen the muscles in the arm. During this entire process an arm sling or shoulder immobilizer may be used to provide support and comfort.
Shipping & Returns
We can ship to virtually any address in Canada or the United States.
Delivery times and fees can vary by region.
For information on Shipping, visit our Shipping page.
We have a 30-day money-back guarantee for most products. To find out what products qualify, visit our Returns page for more information.
Or, if you have other questions, please do not hesitate to Contact Us. We are happy to help!
Need Help?
Do you need help with an order? Or just have general questions? We're here to help!
Please feel free to call us toll-free at 1-833-897-6905, email us, or chat online with one of our Customer Service Agents. LiveChat and Customer Service Specialists are available Monday - Friday between the hours of 9am and 4pm PST (holidays excluded).