Airway Surgical OTC Comfort Pull Lumbosacral Support Black
Brand

SHIPPING:

Ships for FREE to most locations*
Description
Airway Surgical OTC Comfort Pull Lumbosacral Support Black
The OTC 2880 Comfort Pull Lumbosacral Support is very low profile – with an eight inch deep back panel – so it can be worn undetected under clothing. It has a completely non-elastic construction for optimum support. Quite simply, it works when elastic models do not. The key feature of this support is its rigid back panel with a simultaneous roller-pulling tightening apparatus and drawstring pulls that provides symmetrical compressive support for the entire lower back. The wearer can independently adjust the top and bottom of the brace to provide localized compression where it is needed for maximum pain relief.
Lumbosacral Support Corset Specs
Completely non-elastic construction for optimum support

Rigid exterior 8" back panel with simultaneous roller pulling apparatus and drawstring pulls provide symmetrical compressive support to entire lower back

Airmesh fabric for cool, comfortable wear
Sacroiliac Joint Support Brace Features
Non-elastic
Completely non-elastic construction for optimum support.
Rigid exterior 8" back panel with simultaneous roller-pulling apparatus and drawstring pulls provides symmetrical compressive support for entire lower back.
Bilateral flexible side stays offer moderate side-to-side support and stability.
How to Measure For and Apply the Lumbosacral Support
| SIZE | MEASURE AROUND THE WIDEST PART OF THE HIPS |
| --- | --- |
| SMALL | 28" - 34" (71.1 - 86.4 CM) |
| MEDIUM | 34" - 40" (86.4 - 101.6 CM) |
| LARGE | 40" - 46" (101.6 - 116.8 CM) |
| X-LARGE | 46" - 52" (116.8 - 132.1 CM) |
| 2X-LARGE | 52" - 58" (132.1 - 147.3 CM) |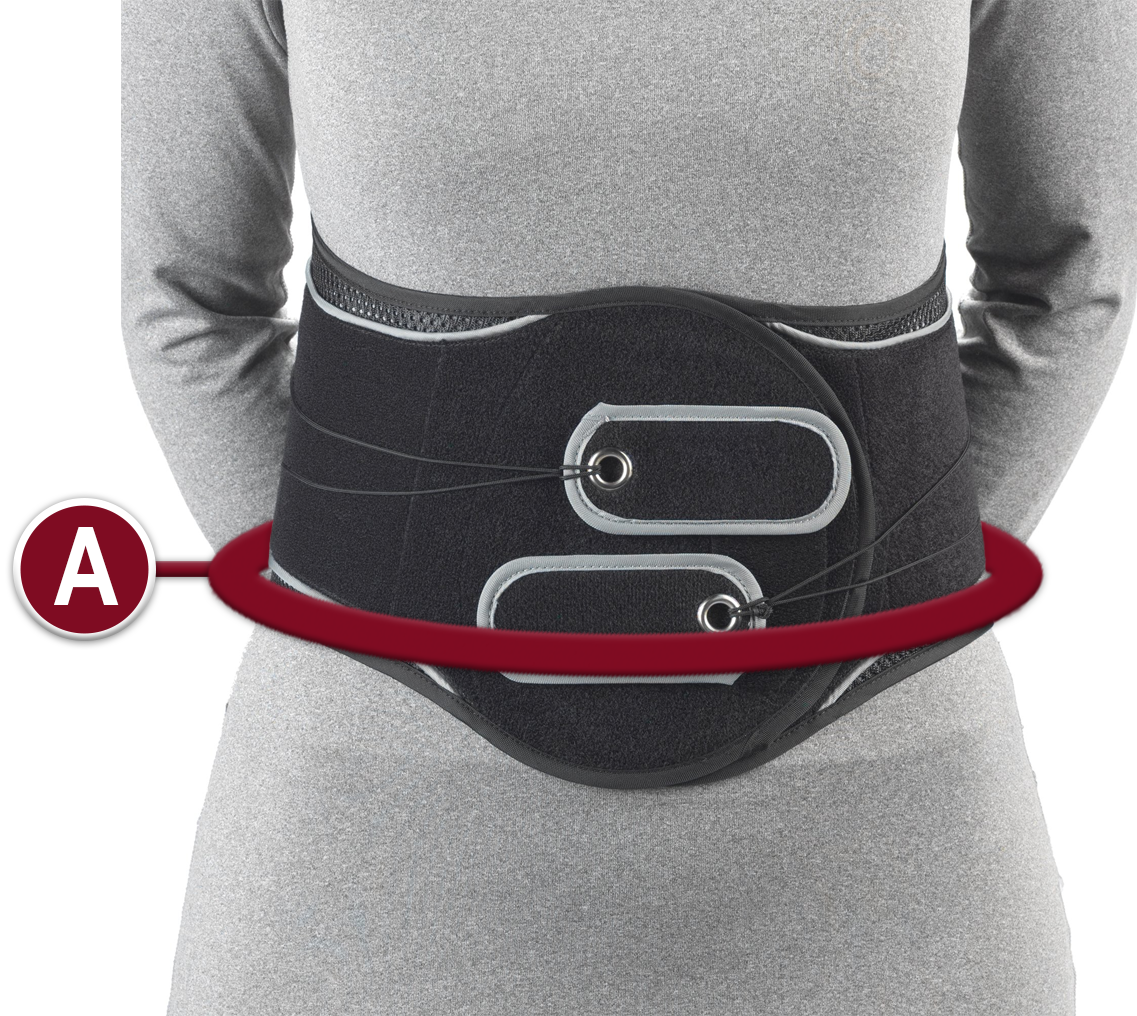 A. Measure around the widest part of the hips.
1. The garment should be applied in a standing position.
2. Unfasten all closures and loosen the drawstring pulls.
3. Position the garment around the lower back so that the bottom edge is at the widest part of the hips.
4. Use hand grip to fasten overlapping front panels. (Symmetrical design allows for right on left or left on right application.)
5. Grasp both drawstring pulls simultaneously and tighten for proper compressive support.
6. Be sure that, when sitting, the garment does not bind the groin area and that it does not ride up on the torso.
7. When properly applied, the support should fit snug but not so tight that it deeply depresses the skin.
Common Conditions of the Lower Back
Cycle through the slides below to familiarize yourself with several common conditions associated with the lower back. The conditions described below may not be treated by the specific product listed on this page. Please view the above Medical Applications Chart to determine what conditions this page's associated product treats.
This is one of the most common diagnoses made in medicine. It usually occurs in forward bending with the spine flexed and often rotated. Tearing of the ligaments, muscles or joint capsules may occur, with subsequent inflammation. The pain is felt across the lumbosacral and sacroiliac areas. One side is usually more sensitive than the other, and the pain may radiate down the sciatic nerve into the thigh and occasionally into the calf. Treatment is designed to reduce the inflammation and spasm. Initially anti-inflammatory agents, muscle relaxants, analgesics and bed rest are prescribed. The goal of orthotic treatment is to provide support for the lumbar spine, limit motion of the painful segments and increase intra-abdominal pressure, thereby reducing pressure on the discs.
The spinal discs provide the point of contact between the individual vertebrae of the spine, and also serve as an all-important shock absorber for the spinal column. Each disc is made up of a jelly-like center called the nucleus, which is surrounded by a very tough but somewhat elastic ring called the annulus. Degeneration of the disc occurs with aging along with the effects of repeated mechanical stress. This may lead to disruption of the nucleus and even some of the annulus. This causes herniation, or bulging, of the disc with potential painful pressure on the adjacent nerves. Most herniated discs occur in the lumbar spine. When needed, treatment includes medication, physical therapy, a back support and possibly surgery.
The sacroiliac – or SI – joints are formed where the lower spine meets the hip joint on both the right and left sides. Very little natural movement occurs at the SI joints, but excessive stress and poor body mechanics can cause anything from mild discomfort to acute pain. Common symptoms may include aching in the lower back, buttocks or upper thigh; low back pain that gets worse with movement or standing and dissipates with rest; inability to move freely, and muscle spasms. Treatment includes prescription, O-T-C or injection medications, hot or cold packs, stretching exercises, physical therapy or a sacro support.
Sacroiliac Joint Arthritis
Sacroiliac joint arthritis – also known as sacroiliitis – is the inflammation of our or both of the sacroiliac joints. It is a common source of pain in the buttocks or thighs, but can be difficult to diagnose since many other conditions can cause pain in the same locations. Sacroiliitis can be caused by arthritis, trauma or injury, pregnancy (as hormones generated during pregnancy can relax muscles and ligaments of the pelvis), or infection. Primary means of treatment include physical therapy and exercise, non-steroidal anti-inflammatory medicines and occasionally a sacral support garment.
Shipping & Returns
We can ship to virtually any address in Canada or the United States.
Delivery times and fees can vary by region.
For information on Shipping, visit our Shipping page.
We have a 30-day money-back guarantee for most products. To find out what products qualify, visit our Returns page for more information.
Or, if you have other questions, please do not hesitate to Contact Us. We are happy to help!
Need Help?
Do you need help with an order? Or just have general questions? We're here to help!
Please feel free to call us toll-free at 1-833-897-6905, email us, or chat online with one of our Customer Service Agents. LiveChat and Customer Service Specialists are available Monday - Friday between the hours of 9am and 4pm PST (holidays excluded).