Airway Surgical OTC Wrist Support With Compression Gel Insert And Encircling Strap Charcoal
Brand
Description
Airway Surgical OTC Wrist Support With Compression Gel Insert And Encircling Strap Charcoal
The OTC 2438 Wrist Support features anatomically contoured gel insert pads to provide targeted, precise compression to support weak or injured soft tissue. The elastic material is lightweight and breathable with a four-way stretch that molds around the bony prominences of the joint.
The compression gel inserts support natural motion and provides for an optimum fit.
Anatomically sculpted viscoelastic silicone insert delivers targeted support to weakened or injured soft tissues around the wrist
Controlled stretch elastic offers effective compressive support to the entire area around the joint
Encircling strap for additional compressive support
Wrist Support Brace
Controlled stretch elastic offers effective compressive support to the entire area around the joint.
Encircling strap for additional compressive support.
How to measure for and apply Carpal Tunnel Wrist Support
| SIZE | MEASURE AROUND THE BREAK OF THE WRIST |
| --- | --- |
| X - SMALL | 5" - 6" (12.7 - 15.2 cm) |
| SMALL | 6" - 6.75" (15.2 - 17 cm) |
| MEDIUM | 6.75" - 7.5 (17 - 19 cm) |
| LARGE | 7.5" - 8.25" (19 - 21 cm) |
| X - LARGE | 8.25" - 9" (21 - 22.8 cm) |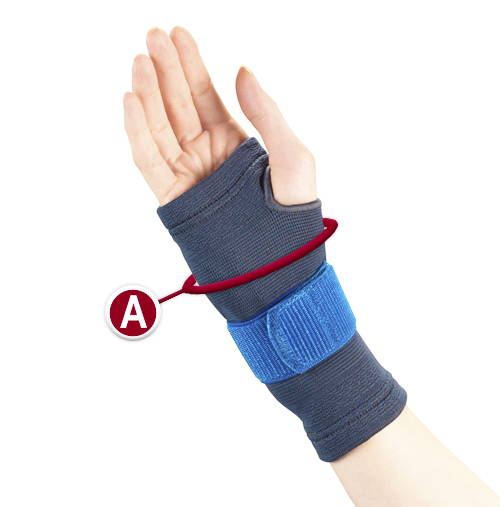 A. Measure around the break of the wrist
Slip the support up and over the wrist until the padded gel insert surrounds the wrist bone.

Wrap the encircling strap around the wrist and fasten.

When properly applied, the support should fit snug but not so tight that it deeply depresses the skin.
Sprain and Strain Conditions
These affect the connective tissues around the joints. Sprains are injuries to ligaments. The injury can be considered mild (slight stretching), moderate (partial tear), or severe(complete tearing). One or more ligaments can be injured in a sprain. The severity of the strain will depend on the extent of injury to a single ligament (whether the tear is partial or complete) and the number of ligaments involved.
Wrist supports or braces are applied to support and compress the soft tissues, helping to reduce swelling and relieve pain. They also provide varying degrees of stability to help prevent re-injury. Wrist braces are also an excellent post-operative tool to speed recovery and help maintain necessary activities during recuperation.
The conditions shown below may not be treated by the product listed on this page. Please view the above Medical Applications Chart to determine what conditions this page's associated product treats.
A mild strain can occur for a number of reasons, but is most often caused by a person's weight being applied to a wrist that is at an unnatural angle - eversion or inversion - with the ligament or ligament group being stretched or even torn.

Moderate & Severe Sprains
A moderate sprain is slight tearing of a ligament or ligament group, while a severe sprain will always be a complete, and usually among a ligament group. Sprains are deemed mild, moderate or severe based on the extent of injury and the number of ligaments.

Carpal tunnel syndrome – or CTS – is repetitive-motion trauma of the hand and wrist. Symptoms of this painful disorder include numbness, tingling, weakness and aching of the hand and arm. The pain of carpal tunnel syndrome arises when the median nerve that passes through the wrist bones – or carpal tunnel – becomes pinched by swollen tendons and membranes. Damage to the nerve is cumulative and, if gone untreated for too long, can result in permanent loss of sensory and motor abilities.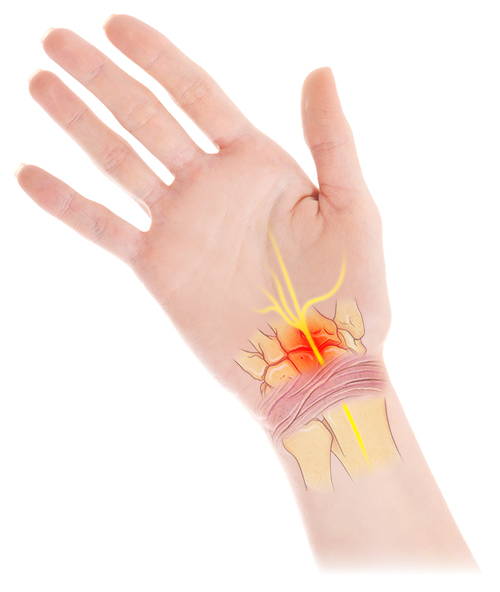 Shipping & Returns
We can ship to virtually any address in Canada or the United States.
Delivery times and fees can vary by region.
For information on Shipping, visit our Shipping page.
We have a 30-day money-back guarantee for most products. To find out what products qualify, visit our Returns page for more information.
Or, if you have other questions, please do not hesitate to Contact Us. We are happy to help!
Need Help?
Do you need help with an order? Or just have general questions? We're here to help!
Please feel free to call us toll-free at 1-833-897-6905, email us, or chat online with one of our Customer Service Agents. LiveChat and Customer Service Specialists are available Monday - Friday between the hours of 9am and 4pm PST (holidays excluded).