Airway Surgical Truform Men's Knee High Casual 20-30 mmHg
SKU:

AWS-1934

Brand
Description
Airway Surgical Truform Men's Knee High Casual 20-30 mmHg
Truform casual style active wear support socks are designed to help improve circulation and reduce leg discomfort. Truform casual style active wear support socks provide graduated compression to help energize the legs - ideal when sitting or standing for long periods. Cushioned foot, moisture-wicking fibers and anti-bacterial, stay-fresh finish provide all-day wearing comfort. Excellent for business-casual or leisure activities that require comfort and support.
Compression Socks Features
Wicking fibers and anti-microbial finish for added comfort and odor control.
Shock absorbing cushioned toe, foot bed and heel provide all day wearing comfort whether sitting, standing, or engaging in physical activity for long periods of time.
Knit-in, defined, reinforced heel pocket provides added durability and easy stocking orientation on the foot and leg for a proper, comfortable fit.
How To Measure For And Apply Truform Stockings
CIRCUMFERENCE
ANKLE
CALF
SMALL
7" - 8.25" (17.75 - 21 cm)
11" - 14" (28 - 35.5 cm)
MEDIUM
8.25" - 9.75" (21 - 24.75 cm)
13.5" - 16" (34.25 - 40.75 cm)
LARGE
9.75" - 11" (24.75 - 28 cm)
15.5" - 18" (39.25 - 45.75 cm)
X-LARGE
11" - 12.5" (28 - 31.75 cm)
17.5" - 20" (44.5 - 50 cm)
Men's Knee High Compression Socks Video
*Measurements should always be taken as soon as possible after waking when swelling is at its minimum

*Measure against bare skin

*The measuring system is based on having the foot flat against the floor and leg at a right angle to the foot

*Measurements must be taken by pulling the measuring tape snugly around the leg but without constricting the skin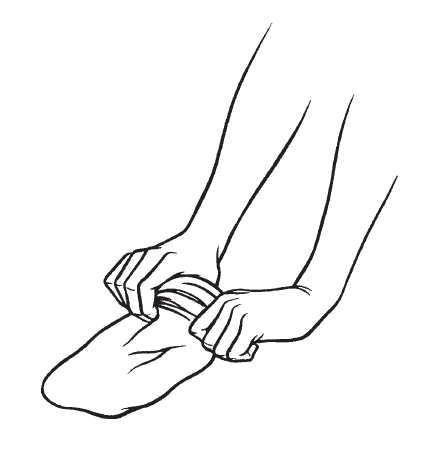 1. Pull stocking inside out to heel. With thumbs in and fingers out, grasp each side of heel, gently slide over foot until heel pocket is centered over heel.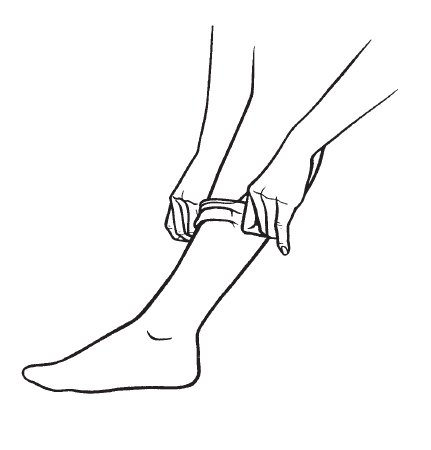 2. Begin turning right-side-out. Continue gradually pulling up the leg. For pantyhose: pull past thighs and over hips; adjust for comfort.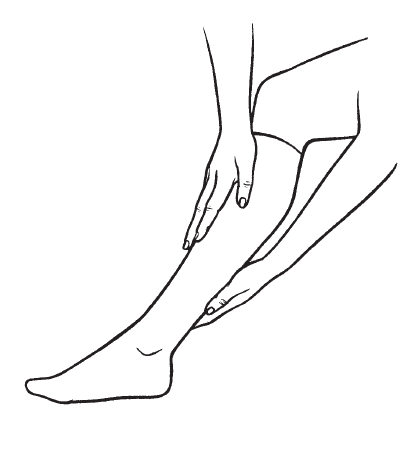 3. Remove folds or wrinkles, gently pulling upwards smoothing over leg. Fabric should be smooth and uniform. Do not fold top or waistband over.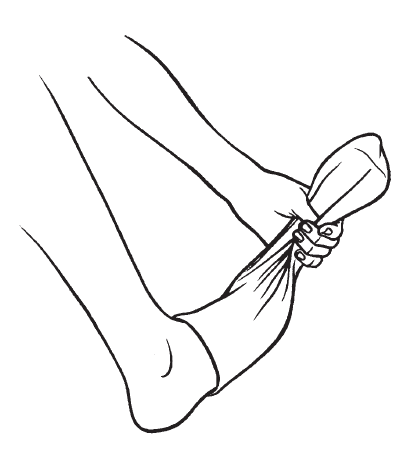 4. Remove by turning "inside out", gently pulling down to ankle. Insert finger, gently pull over ankle, heel and off the foot.
CLOSED TOE BOX
The roomy toe box and low profile toe closure applies no compression to the wearers' toes ensuring a comfortable and natural fit. The reinforced fabric protects against one of the most common areas prone to wear and tear.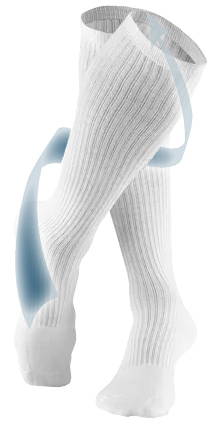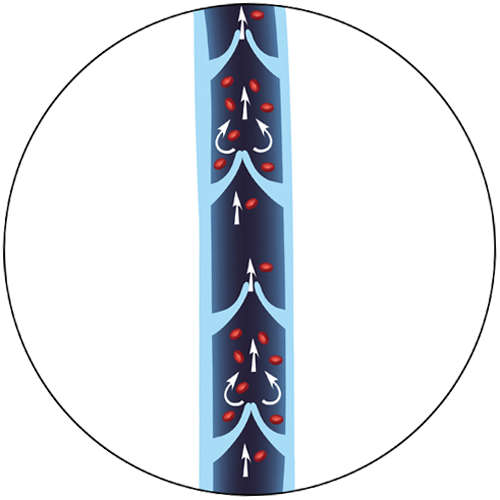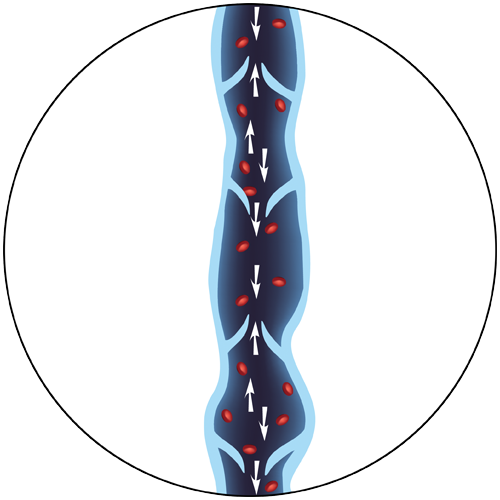 Carries large volumes of blood back to the heart against gravity
Unhealthy backward flow can compromise blood vessels, causing unsightly conditions and discomfort
Compression Level
Medical Indications
Common Usage

Ease Of Application
20-30 mmHg
FIRM
• Tired, aching legs
• Moderate varicosities
• Moderate varicosities during pregnancy
• Moderate edema
• Post sclerotherapy and other surgery
• Help prevent recurrence of venous ulcerations
• Superficial thrombophlebitis
Moderate swelling or lymphedema, DVT (deep vein thrombosis), post-surgery, pregnancy, moderate varicose veins – prescription recommended (Seldom recommended for the diabetic patient.)
May require mild to moderate effort
FIRM / 20-30 MMHG
Moderate swelling or lymphedema, DVT (deep vein thrombosis), postsurgery, pregnancy, moderate varicose veins – prescription recommended (Seldom recommended for the diabetic patient.)
Truform Knee High Compression Socks Design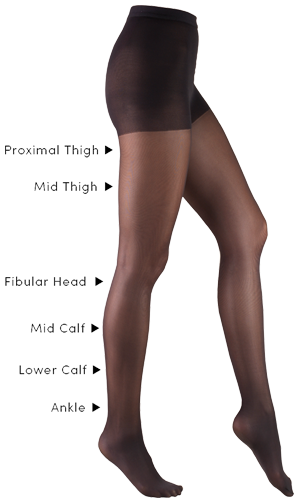 Truform's 6 Points of Compression
Truform measures support values at precise locations along the length of the stocking - 4 points for below knee, 6 points for thigh length and pantyhose styles. These measurements help insure that the compression or support knit in to the stocking is distributed properly along the length of the leg – greatest at the ankle, reducing upwards toward the heart.
Multiple measurements guarantee that all Truform legwear styles are comfortable to wear, and provide the proper amount of elastic compression therapy, in all the right places. Graduated compression stockings, when properly sized and fit, are designed to help improve circulation, which in turn, will help soothe tired, heavy legs, reduce swelling, and relieve varicose veins.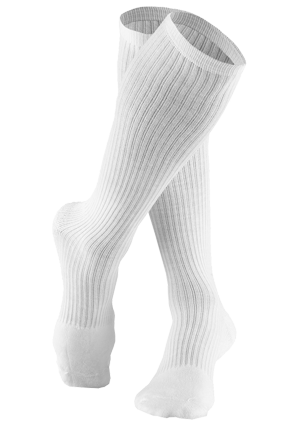 Wash gently with mild soap or detergent in lukewarm or cold water. Do not wring or twist. Rinse until water is clear. Roll in a towel to remove excess moisture. Dry flat away from heat and sunlight.
Shipping & Returns
We can ship to virtually any address in Canada or the United States.
Delivery times and fees can vary by region.
For information on Shipping, visit our Shipping page.
We have a 30-day money-back guarantee for most products. To find out what products qualify, visit our Returns page for more information.
Or, if you have other questions, please do not hesitate to Contact Us. We are happy to help!
Need Help?
Do you need help with an order? Or just have general questions? We're here to help!
Please feel free to call us toll-free at 1-833-897-6905, email us, or chat online with one of our Customer Service Agents. LiveChat and Customer Service Specialists are available Monday - Friday between the hours of 9am and 4pm PST (holidays excluded).