Airway Surgical OTC Elbow Support With Compression Gel Insert And Encircling Strap Charcoal
Brand
Description
Airway Surgical OTC Elbow Support With Compression Gel Insert And Encircling Strap Charcoal
If you're struggling with elbow pain, using the Airway Surgical OTC Elbow Support With Compression Gel Insert And Encircling Strap Charcoal can be a great way to alleviate your symptoms. This OTC elbow support is designed to help reduce inflammation and provide support while you continue your rehabilitation. The compression gel insert helps reduce swelling, and the encircling strap helps keep the support in place.
Airway surgical OTC elbow support can be helpful in providing relief from pain and swelling associated with conditions such as arthritis, bursitis, and tendonitis. This device is made of lightweight material and is comfortable to wear. It can be easily worn under clothing and easy to remove; it can also be washed for ease of cleaning and maintenance.
Features of
Airway Surgical Elbow Support Brace
Anatomically sculpted insert pad provides precisely targeted compression over soft tissues
Lightweight, controlled four-way stretch elastic offers adequate compressive support to the entire elbow area
All-day wearing comfort
Design of
Elbow Support With Compression Gel Insert And Encircling Strap Charcoal
Airway Surgical OTC Elbow Support With Compression Gel Insert And Encircling Strap Charcoal is designed for those with weak or injured elbows. It features anatomically contoured gel insert pads to provide targeted, precise compression to support weak or injured soft tissue around the joint. It is created using elastic materials that are lightweight and breathable for all-day comfort wearing; this four-way stretch molds around the bony prominences of the joint for a more comfortable move. This OTC elbow support is available in five sizes, making it a versatile option for a wide range of users.
Benefits of
Airway Surgical OTC Elbow Support
This OTC Elbow Support is designed to help improve blood circulation and reduce swelling and inflammation. There are a number of benefits to using this support, including:
Improved blood circulation
Reduced swelling and inflammation
Increased comfort and support
The compression gel insert and encircling strap of this brace work together to provide optimal support, while the charcoal lining helps reduce odor and moisture buildup, making this elbow support an excellent investment in improving quality of life.
Instructions of Use and Measurements:
| | |
| --- | --- |
| SIZE | MEASURE AROUND THE BEND OF THE ELBOW |
| X - SMALL | 8" - 9" (12.7 - 15.2 cm) |
| SMALL | 9" - 10.25" (15.2 - 17 cm) |
| MEDIUM | 10.25" - 11.5" (17 - 19 cm) |
| LARGE | 11.5" - 12.5" (19 - 21 cm) |
| X - LARGE | 12.5" - 13.75" (21 - 22.8 cm) |
Application Instructions
Slip the support up and over the elbow until the padded gel insert surrounds the bone.
When properly applied, the support should fit snugly but not so tight that it deeply depresses the skin.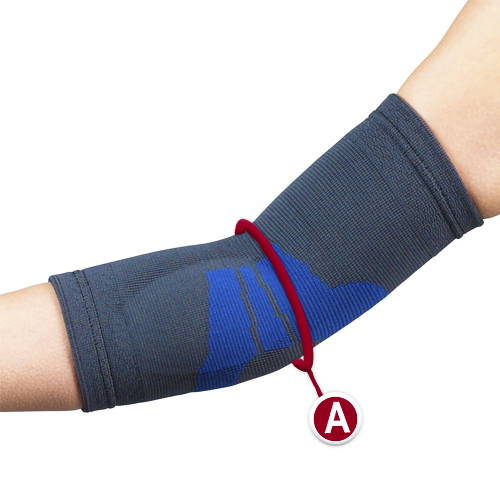 Halo Healthcare offers a wide range of
Elbow Braces
in Canada and the US. In addition to Elbow Braces, Halo Healthcare also offers a variety of other medical supplies, such as Wrist Braces and splints. With so many options available, you are sure to find the perfect product for your needs.
Shipping & Returns
We can ship to virtually any address in Canada or the United States.
Delivery times and fees can vary by region.
For information on Shipping, visit our Shipping page.
We have a 30-day money-back guarantee for most products. To find out what products qualify, visit our Returns page for more information.
Or, if you have other questions, please do not hesitate to Contact Us. We are happy to help!
Need Help?
Do you need help with an order? Or just have general questions? We're here to help!
Please feel free to call us toll-free at 1-833-897-6905, email us, or chat online with one of our Customer Service Agents. LiveChat and Customer Service Specialists are available Monday - Friday between the hours of 9am and 4pm PST (holidays excluded).